Meet Callyiah
Bitten by a travel bug, Callyiah has visited many places in the last few years and has a growing list of new places that she would love to explore. Her top voyage was visiting New York and catching a Broadway play. In her free time, Callyiah likes to participate in youth group and hang out with her friends. She also enjoys playing card and board games with friends and family.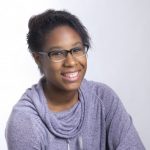 This eleventh grader enjoys school, and her favorite subject is math. Callyiah is a hard worker who loves to learn. Her desire to learn follows her outside of school as she is currently learning to cook and bake.
All family types will be considered for Callyiah. She will need to remain in contact with her brothers and foster parents following placement. Financial assistance may be available for adoption-related services.
For Missouri children, both homestudied and non-homestudied Missouri families are encouraged to inquire; only homestudied families from other states should do so.
For more information on becoming an adoptive family, please email moheartgallery@adoptex.org or call 800-554-2222.