CMFCAA's Board Chair is Presented with Lt. Governor's Senior Service Award!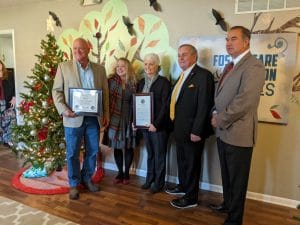 Jefferson City News Tribune said this about the award presentation: "Even after winning a statewide award recognizing her dedication to the Jefferson City community, Carol Fischer couldn't stop talking about the team surrounding her. Fischer serves as the president of the board of directors for Central Missouri Foster Care and Adoption Association, a nonprofit agency that provides a wide range of services for foster care and adoptive children and families in Mid-Missouri. At a surprise ceremony Tuesday morning, Lt. Gov. Mike Kehoe, joined by state Rep. Dave Griffith, R-Jefferson City, and state Sen. Mike Bernskoetter, R-Jefferson City, presented Fischer with the Lieutenant Governor's Senior Service Award.
"I am honored beyond imagination," Fischer said. "Not in my wildest dreams would I have ever expected anything like this. I've got a lot of true friends in this room who I would not be standing here today if it weren't for them," she said.
Fischer has worked with CMFCAA for the past seven years, since 2018 she has been the president of its board of directors. Her term ends at the end of the year. Fischer also helps wherever is needed at CMFCAA, including mowing the lawn on Thursdays, rain or shine. Whether it's her work with CMFCAA or the years she spent leading the Missouri Department of Revenue, Fischer said her life has been guided by trying to do the right thing. Kehoe said Fischer's work is inspiring and motivational, noting she has an impact on people she doesn't always know or has never met before.
"All of the things you do for our community, and I've known your work in the community for a long, long time, even working the pumpkin patch," Kehoe said to Fischer. "You do a little of everything."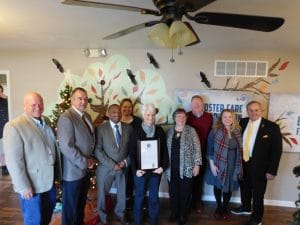 Pictures by Pivoney, Ryan. "Jefferson City Woman Earns Recognition for Community Service" newstribune.com, Jefferson City News Tribune, 30 November 2021. Accessed 2 December 2021.