It's National Adoption Awareness Month and we're focusing on teens lingering in foster care without hope for a permanent family. For kids over the age of nine, the reality is bleak. Truth be told, these kids are often overlooked, and negative thoughts enter a families mind when an older child is available for adoption.
The 2017 Adoption Attitudes Study, presented through the Dave Thomas Foundation for Adoption, asked the Nielsen Company to support the efforts to assess 1,400 American adults and over 1,000 Canadian adults through an online survey. The study states, "Most have no preference for the gender of their future adopted child, though younger children who share their same race are preferred. Among those who have either adopted previously or are considering adoption, a majority has no gender preference and those who do would consider the opposite gender. A majority prefers a child younger than 5 years of age. Whites, Blacks, and Hispanics are significantly more likely to prefer an adopted child of their own race, respectively." For youth in foster care they already know their luck for a family is running out and options for a father walking them down the isle-well it's not looking so good.
Every five years, The DTF conducts the new study gauging the adoption temperature of Americans and Canadians. It appears in the table below that the nation has spoken loud and clear. Families looking to adopt are seeking to adopt children under the age of five. (https://davethomasfoundation.org/learn/research/)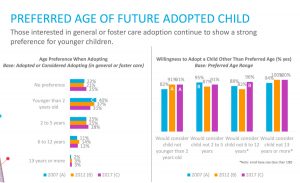 This is where CMFCAA stands our ground. All kids deserve a family; no matter the age. We know that kids with trauma need family and consistency no matter what kind of attitude they display. Central Missouri has 139 kids in the counties we serve with no identifiable adoptive resource. What does that mean? It means these kids are not returning home and no one is willing to provide permanency. It means they will most likely age out of foster care and become a statistic…homeless, incarcerated or dead. Foster youth are deeply aware of this situation. One youth said, "You don't want no one to feel sorry for you, because it's hard enough that we have to be in the system, hard enough that we have to be a statistic."
Central Missouri Foster Care & Adoption Association chooses to challenge the status quo. We are in the ring and we're ready to take a swing at the trends above. Through innovative programming and resources we can find families. Sarah Bashore, CMFCAA's new Extreme Recruitment and 30 Days to Family Supervisor believes' the same way. We are excited she is at the helm of both new programs and will lead the way for kids who have lost hope. Both programs seek families; not institutions to care for Missouri's kids. 30 Days to family works on the front end of foster care and Extreme Recruitment works on the back end of foster care. To learn more about the two new programs visit www.mofosteradopt.com.
Kids over the age of 9 shouldn't become full-blown orphans, but they are. The data is crystal clear. To learn more about adoption and how you can be part of the solution, contact us. We're not going to change this data overnight but we can start changing minds and more importantly ideas about adoption.