What is the Community Connections Youth Project® or CCYP®?
---
CCYP® is a resource for young adults who are aging out of the foster care system and branching out into the adult world. There's lots for them to think about. This can be a scary time, but it doesn't have to be.
---
We provide these young adults with the tools they need most to be successful:
in the community
in housing
in education
in employment
with healthcare
with finances
with social support
with transportation
with legal advocacy
and more…
---
As foster care alumni, our case managers know how to offer a vast array of services that youth need, both before and after leaving care; and they also have the drive and the compassion to never give up for their clients.
---

How can you help? Call us today to find out how you can make the difference between desperation and success for our young adults.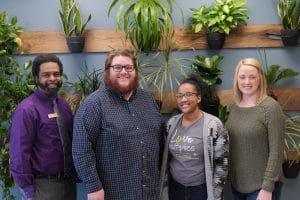 For questions, please contact:
David Trammell, Youth Programs Supervisor
david@mofosteradopt.com
---
The Community Connections Youth Project® (CCYP®) provides advocacy and social support finding for young adults who have suffered from abuse and neglect and are at risk of becoming homeless, incarcerated, unemployed, unexpectant parents, or dying young without access to the same supports that others in their peer group gain from traditional family and community settings. CCYP® is a community-based program that provides voluntary case management, allowing clients to use any part of the program they choose without worrying they will be discharged from services. CCYP® appeals directly to Central Missouri Foster Care and Adoption Association focus on increasing the quality of life experienced by young adults impacted by the foster care system, by connecting participating clients to community-based resource providers. CCYP® is designed to be voluntary, allowing clients to opt in or out of program participation without consequence. This service allows program staff to help clients accomplish a variety goals that will maximize success and limit negative outcomes.
CCYP®'s model incorporates aspects of Central Missouri Foster Care and Adoption Association successful Advocacy and Extreme Recruitment programs into a strength-based model of voluntary peer case management for clients currently exiting or who have recently exited from the foster care system. This model of case management emphasizes the inherent strengths of the client and builds upon existing (or recruited) resources to produce an increase in the quality of long-term outcomes for former foster care youth, who have historically experienced tragic long-term outcomes.  This support, referral and advocacy program will be provided by Community Connections Specialists, whom are foster care alumni, to current or former foster youth.
---
Homeless Missourians Information System (HMIS)
---
The Central Missouri Foster Care & Adoption Association does not and shall not discriminate on the basis of race, color, religion, gender identity, gender expression, age, national origin (ancestry), disability, marital status, sexual orientation, or military status, in any of its programs or services. These activities include, but are not limited to, hiring and firing of staff, selection of volunteers and vendors, and provision of services. We are committed to providing a welcoming environment for all members of our staff, volunteers, subcontractors, vendors, and members.
---
Click Here to view CMFCAA's Privacy Policy & Terms of Use
---