Mission:
The Central Missouri Foster Care & Adoption Association is a not-for-profit agency that is committed to providing essential services and support to the kinship, foster, and adoptive communities in Central Missouri.
Vision:
To support and stabilize a safe and healthy kinship, foster, and adoptive community that instills hope in the children of Mid-Missouri.
Values:
CMFCAA C.A.R.E.S:

C: Child-Centered
First and foremost, the children are at the heart of our organization. Everything we do is for the betterment of the foster, adoptive, and kinship community.
A: Advocacy
One of the things CMFCAA strives for is advocacy for an often forgotten demographic. Whether it is our families we serve or on capitol hill, we stand up for the vulnerable.
R: Resources
We provide resources to any member of the kinship, foster, and adoptive community who needs them. Those resources include physical items for the children, as well as educational resources for the parents who are wanting to adopt or foster.
E: Engagement
We engage our community so the families we serve have events they can attend. These events are a great way to help children who have experienced trauma gain new positive perspectives.
S: Stewardship
Stewardship is an ethic that embodies the responsible planning and management of resources. The concept of stewardship applies to the environment and nature, information, health, and more. We steward the resources we have to better serve foster, kinship, and adoptive families.
History:
Founded in 2007 by a former foster youth, foster parents, and adoptive parents, the CMFCAA is a community service organization that provides for the needs of foster, adoptive, kinship, and guardianship youth and families. What began as a small support group has grown into a multifaceted organization that provides direct support, education, services, and advocacy to foster and adoptive families in a 24-county Central Missouri region.
Currently, we are assisting over 640 foster families, over 1400 foster children, over 400 adopted children in our service area. Our goal is to be a support to the families, children, and youth in this area, and we work tirelessly to provide much-needed services to them.
In 2013, CMFCAA was recognized by the State of Missouri as the Central Missouri Adoption Resource Center in partnership with the Missouri Department of Social Services and LINC.
In 2017, we adopted two new programs to further our impact. 30 Days to Family® is a short-term intervention to diligently search for a child's relatives and kin to identify potential placement options and supports. Extreme Recruitment® is a race to find permanency for youth using 12-20 weeks of intensive recruitment efforts and permanency preparation. Family Development is designed to recruit and train families to become resource families for abused and neglected children in order to increase the number of qualified, supportive families in Central Missouri. With these new programs CMFCAA is able to reach more children and families to provide stability and support to the children who need it the most.
Did you know?
There are over 14,050 children in Missouri foster care
At the beginning of 2015, there were 651 licensed foster homes
Only 48% of children who enter care are expected to be successfully reunited with their biological family
The average age of foster children is 9 years old
The average time in foster care before reunification or another form of permanency is 28 months
14% of foster children without permanent family become homeless adults
18-26% of foster children without permanent families end up in the prison system
The Central Missouri Foster Care & Adoption Association has proudly partnered with the United Way of Central Missouri, the Heart of Missouri United Way, & the United Way of Callaway County. These partnerships allow CMFCAA to strengthen outcomes for our most vulnerable children and the families who serve them.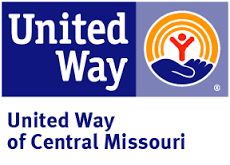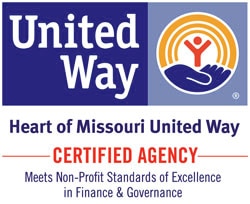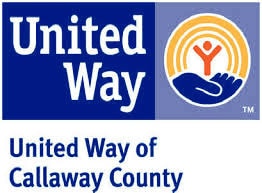 More Partnerships