If only we could get our hands on a magic wand to make all of our child's pain, hurt, and suffering go away. I know most of us would reach right for it, and for good reason. But the reality is, we can't take it away no matter how much we try. Being a foster/adoptive/kinship parent means that your child likely experienced loss, heartbreak, and pain before coming to you. Dealing with such intense emotions is hard as an adult, and even harder when you are a child and don't quite understand what is going on or why. Even more, children don't yet have the skills or brain development to regulate such intense emotions, making it even harder to handle. Thankfully, your children have you for support and guidance on the journey of healing. And, there are things you can do to help support your child through the process.
Don't try to fix it.
I know you desperately want to. I know it is hard. But what happened cannot be undone. We can only help our children to move forward and encourage resiliency and strength. We do this by acknowledging their emotions and helping them to feel what they feel without rushing to fix it. Further, by letting them try to reach their own solutions or resolutions, we teach them independence, problem solving skills, and allow them to build confidence in their own skills. Instead of fixing it for them, we can offer encouragement, ask questions, and express empathy for our children, allowing us to be there for them in a way we can truly help.
Remind your child that you are there for them.
Humans need connection. We need to feel seen and heard. Let your child know that you are here for them in their times of fear, pain, and confusion. The stigma of mental health conditions can make it harder for kids to feel comfortable talking about their problems, so remind your child that you will listen without judgement. Offer a tight hug, to sit with them while they cry, or to feel with them. Find out what makes your child feel supported and safe. Ask them how you can help. And, allow yourself to feel with them. You don't always have to hide how you feel.
Be an example for them.
Talk about your own mental health and what you are doing to make it better. Make it a routine to check in and see how they are doing by starting the conversation yourself. It can be scary to be vulnerable and to show that maybe you don't have it all together, but it helps them to feel less alone, and provides an opportunity for them to learn from the best on how to overcome challenges. The more we talk about our own emotions and mental health, the more likely our kids are going to come to us to talk about their own experiences.
Love them fiercely.
Love them hard and love them always. Forever love them unconditionally, without limitations, without bounds, and without changes. Let them know that mistakes are okay, bad days are okay, and that they are never ever alone. Stay judgement free when they come to you about things, build trust, and let them know that you love them. Find out their love language, find out your own, and connect!
Central Missouri Foster Care and Adoption Association Advocacy Team
Navigating mental health conditions and emotions can be difficult. All you can do is the best you can do, and for that, I am proud of you. Nevertheless, some challenges are bigger than a parent can handle and that is okay. If you find yourself needing more help navigating your child's mental health needs, contact me. I am here for you. CMFCAA is here for you.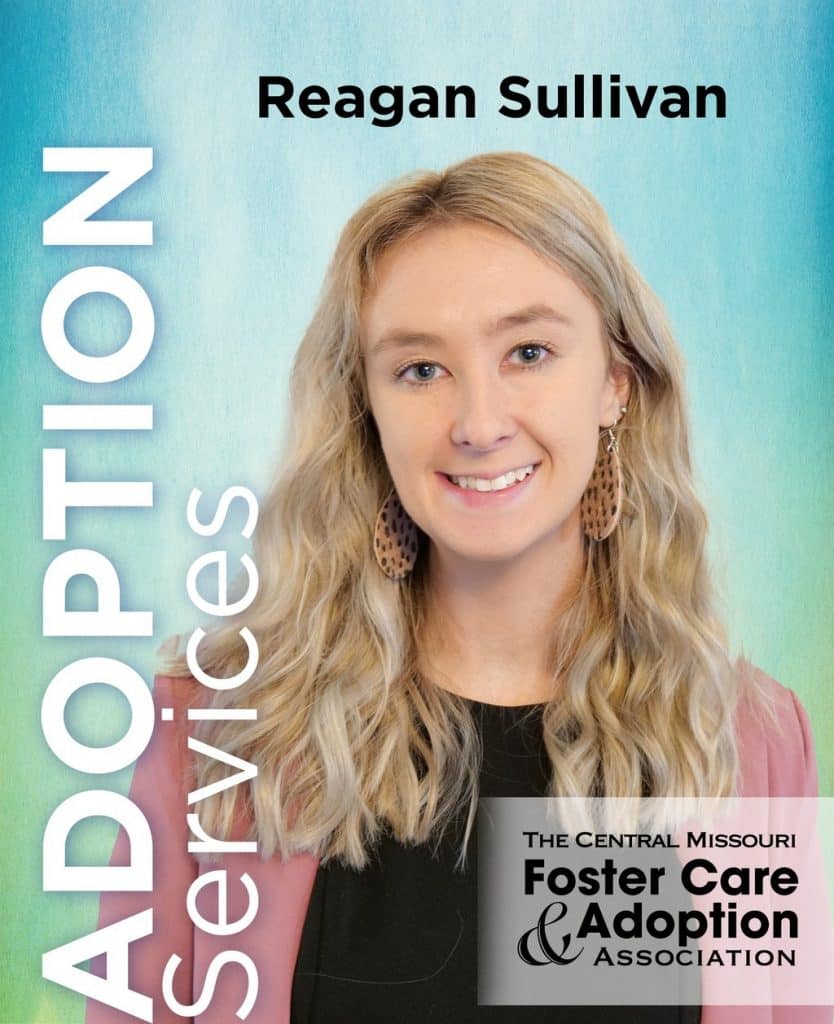 Reagan Sullivan
(She/Her)
Mental Health Advocate
573-469-8173
**This is not to be considered professional advice. Please seek help with a professional licensed counselor or social worker to find what works best for you and your family.**